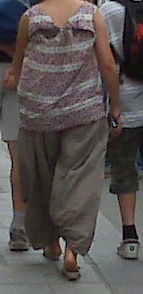 Yes, this is a summer of extremes when it comes to fashion silhouettes for women. Leggings are stepping aside this season for a fuller pant silhouette. I just returned from France and although there were still some leggings, harem, dhoti and Jodhpur styles were everywhere. For those of you who are new to these terms here is a quick rundown… 
Harem Pant legs are full top to bottom and gathered into an elasticised/ drawstring or added cuff at the hemline. The waist may be smooth or full like the pants in the picture. As you can see these harems are a variation of the real thing with the hemline only partially gathered. 
Dhoti's are a full pant that is very long in the crotch area. The legs are full in the thigh and taper dramatically to the ankle. Some may have an added cuff at the ankle. 
Jodhpurs were traditionally a riding style pant. They are fitted in the hip area and very full in the thigh. They curve in dramatically at or just below the knee they fitted to the lower calf or ankle.