4 Ways to Instantly Look Slimmer!
Posted on December 20, 2008 by musaib-new
---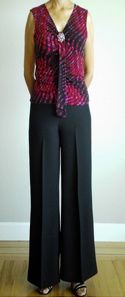 This picture demonstrates 4 ways to look slimmer.
A non-descriptive print with no background can fool the eye, camouflaging the area. This print works particularly well. It forces the eye to look diagonally and vertically.
The crease up the centre of each leg on the pants creates vertical lines elongating and slimming the legs and body.
A broach draws attention, acting as a focal point close to the face and by-passing the figure challenges.
The tie on the shell creates a vertical line drawing the eye toward the face.
Filed Under: Uncategorized , Wardrobe , Women
Handshakes
Posted on December 19, 2008 by musaib-new
---
When meeting and greeting for the first time, be sincere, stick to the rules of etiquette and be sensitive to the person's strength.
Make eye contact, smile and shake hands, repeating the person's name in the greeting. For example:
"Hello Mary. It's nice to meet you, I am …;
Or 'It's a pleasure to meet you."
The most formal greeting would be
"How do you do, Mary, I am…" The reply to "How do you do." is "How do you do."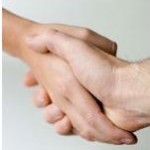 If you would like to meet someone, when approaching that person:
Make eye contact and smile.
Introduce yourself with your first and last name.
Shake hands firmly, web to web. Lean into the handshake. Hands should be vertically parallel.  Shake hands 2-3 pumps.
This shows confidence and sincerity
Handshakes to avoid
The bone crusher – some people have no idea how strong their grip is.
The limp handshake (sometimes called the dead fish) – gives a non-confident wishy-washy impression.
The power grip (when someone grips with their hand on top) – in body language this indicates that the person perceives themselves as more important or is trying to get the upper hand.
Gabbing the finger tips sometimes very softly-  this can be a cultural difference not unusual on some Asian cultures – in western society we prefer a web to web handshake
These handshakes are a bit too friendly for business. You may be perceived as coming on too strong. Better to be saved for friends and family.
2 handed handshake (when you cup both hands around the other persons hand) – is very nurturing and friendly.
Keep your hands to yourself. Avoid shaking hands while holding the other persons elbow or shoulder – too friendly for business
For another way to get a grip on your handshake watch the video on Living Vancouver with host, Jaeny Baik and Kimberly Law, AICI CIP. Click on Watch the Show in the top menu and then on It's a Living in the right column.
Filed Under: Etiquette , Uncategorized
Hi There!
Posted on December 19, 2008 by musaib-new
---
Image really is everything
… and companies are no exception!
I am really excited to announce that Personal Impact now has more Personal Impact with the launch our new Website and Blog.
Since starting Personal Impact in 1999, one of my goals has always been to make personal image knowledge easily obtainable for everyone. Because of this, one of the most important things for our new site was to have the ability to make even more personal image information easily available.
Our new resources page is loaded with image tips, articles and links in all media formats including audio, video and print.
Or try one of our Free Self-Assessments tools. This tool contains seven self-assessments on the following image topics: Personal Care, Makeup, Wardrobe, Business Dress, Manners & Etiquette, Dining Etiquette and Communication. Try one or all of them to find out if you have Personal Impact or which areas of your personal image need tweaking. Once you have determined which areas need some tweaking you can use the Free Self-Assessments as an action plan. Work on them yourself using the resources page, Image Matters articles or the future resources on our Blog described below. Visit the shop to find our how our Personal Impact Series of 8 special reports can help or contact us for a complimentary initial consultation to find out how we can help.
Along with our new website, I am especially excited about our new Blog. I have been looking forward to setting one up for quite a while and here it is… finally! I will be using this as a medium for sharing tips and information on image, fashion and etiquette.
I hope you will visit my website www.personalimpact.ca and comment frequently or you can sign-up for an RSS feed at Personal Impact Blog so you can be notified about our Blog posts right away.
If you find the information interesting please share it with your friends, family and social media sites.
I look forward to hearing from you. Please contact me if you have any questions, comments or if there are any topics you would like to hear more about.
Enjoy!
Kimberly
Filed Under: Uncategorized