Table manners have a long history and were established as a way of keeping the peace and domesticating our behaviour. Over time these rituals were handed down from generation to generation eventually becoming tradition. Today, with our hectic lifestyles, many of us eat on the run as we rush about multi-tasking. Although many dining traditions may not seem crucial while eating in front of the TV, our table conduct is still considered important during business and when dining formally. Whether we like it or not, how we conduct ourselves at the dining table can influence others' perception of us, impacting our business and social relationships at home and around the world. Fortunately practitioners in the international image and etiquette industry recognise the need for global standardization of dining etiquette for business interaction. In 2010 the Institute of Image Training & Testing International (IITTI) was established to in answer to this need. This program has been developed to adhere to the 'IITTI International Standard'.
WHAT IS IITTI CERTIFICATION?
The Institute of Image Training & Testing International www.iitti.org is an international non-profit organization dedicated to global business etiquette standardization.
IITTI (pronounced "ET") is a standardized, independent testing system for business image and etiquette. The IITTI certification serves as the 'ISO' system for corporate image and etiquette standards worldwide. It provides a uniform way for employers and job seekers to measure soft skills that are critical to business success.
International business etiquette is a key component to being successful in today's highly competitive global environment.
If you are planning to incorporate IITTI certification into your business as a business tool to use with your clients, we recommend familiarizing yourself the IITTI website and the documents found in the following sections:
Trainers: http://www.iitti.org/forSchools/whoFor.htm
Employers: http://www.iitti.org/forEmployers/whatCanWeExpect.htm
Students: http://www.iitti.org/forStudents/whoWouldAccept.htm
COURSE DESCRIPTION
Congratulations on your enrolment into the IITTI Level 1 Standard, Self-Study Learning & Mentorship: Dining Etiquette for Business.
International Business Etiquette is a combination of corporate soft skills that has created a demand for expertise in the areas of training and guidance in the corporate and education sectors.
This distance learning self-study program provides the tools that will prepare students to work as an independent Corporate Etiquette trainer specializing in area of Dining Etiquette for Business, based on North American and internationally accepted Western standards. All training is based on requirements for the IITTI Level 1 Certification Exam, through the Institute of Image Training and Testing International (www.iitti.org) .
Through self-study of the course materials, assignments and bi-weekly live (feedback and mentorship) calls, for the duration of the course, students will learn the theory and the how-to's to create their own dynamic seminars. This program also includes ongoing mentorship with Kimberly Law, for a full calendar year from the program start date.
COURSE OBJECTIVES
Gain key business etiquette skills and an understanding of culture, behaviour and business practices in western society, to be able to convey to their clientele.
Gain techniques to appropriately define client goals and templates for written proposals.
Gain knowledge and strategies to develop training programs for the corporate and education sectors.
Raised awareness of Western customs and standards for professional decorum.
Observe various presentation techniques for training delivery.
Gain knowledge needed to prepare clientele for the Level 1 IITTI exam.
Develop skill base to participate in a growing global community advocating international business etiquette standardization.
Mentor with internationally recognized Canadian trainer and Founding IITTI Director.
SELF-STUDY MATERIALS

Video Lecture
Dining Etiquette content, corporate lecture demonstration

Study Guide
Educational materials, sample PPT. slides, exercises, resources, etc.

Final Quiz
Self-administered
SELF-STUDY EDUCATIONAL CONTENT
Place settings, napkins and seating
Navigating the meal
What you need to know about wine – The Basics
Hosts, guests and guests of honour
American & Continental dining styles
Using utensils in Western societies
How to eat tricky foods
World class manners
Toasting 101
Tipping in North America
VIDEO LECTURE: DRESSING TO WIN IN THE CORPORATE ARENA
This video lecture demonstrates educational content and training techniques used in the actual delivery for workshops and seminars for companies, schools, and individuals on the topic of dining etiquette. All material in this video lecture conforms to the IITTI Standard.
We recommend reviewing this lecture several times during your self-study. While all lecture material is copyrighted and may not be used or reproduced without consent of Kimberly Law, It will help you gain knowledge and strategies to develop your own training programs as well as help to prepare you to sit for the dining etiquette component of the IITTI Level 1 exam. We suggest stopping the video as needed to make notes on the program educational content, delivery style and best practices. Review questions with Kimberly during your mentorship calls.
STUDY GUIDE: FORMAL DINING FOR INFORMAL PEOPLE: PERSONAL IMPACT GUIDE TO IITTI STANDARD – DINING ETIQUETTE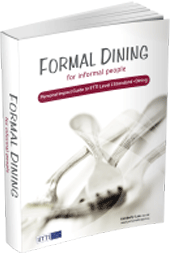 Formal Dining for Informal People Personal Impact Guide to IITTI Level 1 Standard – Dining Etiquette, is a study guide that conforms to the 'Standard', set out by the Institute of Image Training & Testing International. It is a great reference tool with guidelines that will show you and your clients how to dine with confidence for business or pleasure.
This version of the study guide has been enhanced for the Personal Impact International, Train-the-Trainer Self-Study Mentorship program. While all the information required to pass the IITTI Level 1 Exam is included in this study guide, we recommend studying all materials and completing the exercises included in this module to reinforce the learning process in your training. One of our main objectives in writing this guide was to cover the knowledge base required for the exam. We don't want to waste your time. While this guide is fast paced and fluff-free, it expands on the IITTI knowledge base with additional guidelines for elaborate gatherings and formal entertaining.
We suggest reading through it a number of times, as repetition is an important part of learning new information and concepts. Click to read the Study Guide.
SELF STUDY: TRAINING EXERCISES
Self Study Interactive Training Exercises will help reinforce the learning process for this module. Practice exercises are an important part of learning new information and concepts. You may reproduce this handout with my permission and use it for your presentations or work with clients, provided the Personal Impact copyright is maintained. Do not change the format or content. Used as a handout your contact information may be added as a footer. Click to download Table Settings- Interactive Training Exercises Study Guide.
FINAL QUIZ: PROFESSIONAL APPEARANCE CURRICULUM
The purpose of this quiz is to reinforce the learning experience, evaluate your progress and understanding of the self-study content and to help prepare you for the personal appearance component of the IITTI Level 1 exam. After reviewing the lecture materials, the study guide and completing the recommended exercises we recommend completing this final quiz. This quiz is presented in random order and may be self-administered more than once to test your knowledge.